The Keio University Office for Equity, Diversity, and Inclusion is pleased to hold the following symposium. Anyone interested in joining is welcome to register.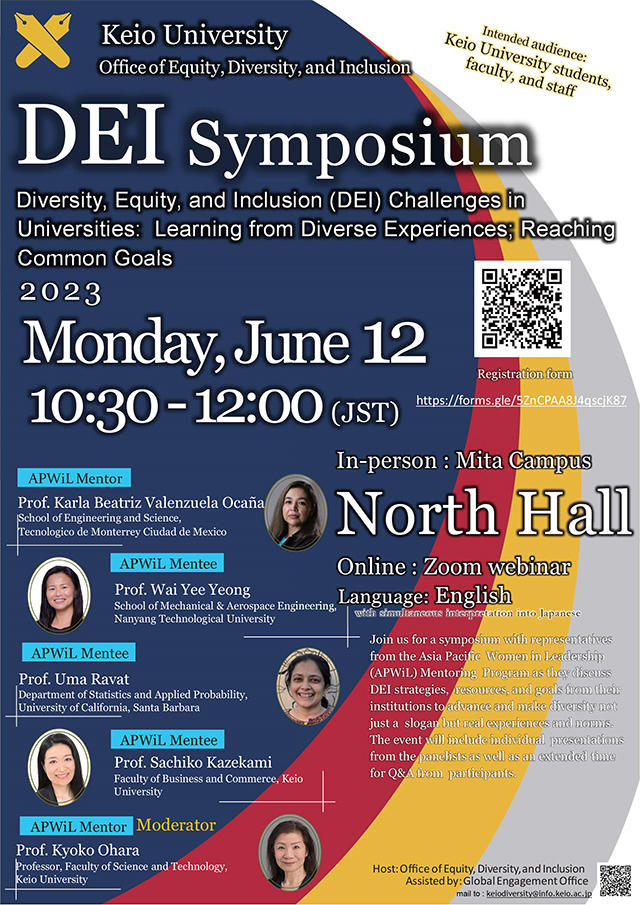 Symposium
Diversity, Equity, and Inclusion (DEI) Challenges in Universities: Learning from Diverse Experiences; Reaching Common Goals
Date and time
10:30 am-12:00 pm, Monday, June 12, 2023 (Japan Standard Time)
Venue
In-person: North Hall, Mita Campus, Keio University Online: Zoom webinar
Intended audience
Keio University students, faculty, and staff
Participation fee
Free
Language
English (with simultaneous interpretation into Japanese)
Event format
In-person and online via Zoom webinar
Registration
https://forms.gle/5ZnCPAA8J4qscjK87
Symposium Overview
The Association of Pacific Rim Universities (APRU)-Asia Pacific Women in Leadership (APWiL) offers a mentoring program led by women who are scholars representing various institutions and disciplines at APRU member universities. Keio University has been an active member of APRU since its inception.
For this symposium, female faculty members from Keio University and international APRU member universities who participated in APWiL's mentoring program will share DEI strategies, resources, and goals from their home institutions. The symposium aims to explore how we can advance and make diversity not just a slogan but real experiences and norms.
The panelists will share their range of diverse experiences in higher education and give their thoughts on the challenges of achieving diversity, equity, and inclusion at universities. After their presentations, a moderated discussion will follow with a Q&A with the audience.
By providing a space to discuss DEI, explore the challenges and goals of DEI in higher education from diverse and international perspectives, and by listening to the experiences and thoughts of panelists from overseas universities, participants of the symposium can discover new ways to make real changes at Keio and in society at large.
Event Outline
・Welcome address by Prof. Akiyo Okuda, Vice President, Keio University
・Talks
Panelists introduce DEI at their institutions
Self-introduction and the challenges they face
University programs: explanation of programs/challenges/goals
・Discussions on DEI
What we can learn from diverse experiences
What we can identify as our common goals
・Q&A session
・Closing remarks
◆MC: Akiyo Okuda, Vice President, Keio University
◆Panelists
・Prof. Karla Beatriz Valenzuela Ocaña, School of Engineering and Science, Tecnologico de Monterrey Ciudad de Mexico (APWiL Mentor)
・Prof. Wai Yee Yeong, School of Mechanical & Aerospace Engineering, Nanyang Technological University (APWiL Mentee)
・Prof. Uma Ravat, Department of Statistics and Applied Probability, University of California, Santa Barbara (APWiL Mentee)
・Prof. Sachiko Kazekami, Faculty of Business and Commerce, Keio University (APWiL Mentee)
◆Moderator Prof. Kyoko Ohara, Professor, Faculty of Science and Technology, Keio University (APWiL Mentor)
Host
Keio University Office for Equity, Diversity, and Inclusion
Assisted by the Keio University Global Engagement Office
We look forward to seeing you at the symposium.